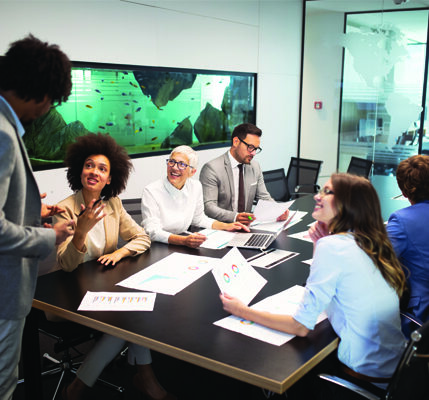 A Little About Us
Sustainable Agile Transformation
Who We Are
At Greyson James & Associates we create a culture of innovation and continuous improvement helping clients solve complex business challenges from strategy through delivery.
What We Do
We facilitate agile transformation and organizational change ensuring organizations evolve from reactionary firefighting towards a new normal of continuous improvement. We meet our clients where they are to develop, execute, and accelerate the benefits of agility across the organization.
Press Coverage
What our clients say about us...
We've been partnering with Greyson James & Associates since 2017 and it's transformed the way we do business. Greyson James & Associates has made our process improvement journey simple and fun. Initially, our corporation struggled to understand how lean could be used in the restaurant industry, but we developed a partnership that has defined our marketing and increased sales.
Greyson James & Associates helped our organization identify issues in our process, create standards, and improve customer satisfaction by 30% in 3 months. I highly recommend their services.
I loved the enterprise change management expertise and coaching provided by Greyson James & Associates. Prior to partnering with this organization, we struggled with change. Greyson James & Associates helped our Senior and Middle Management teams understand the pivotal role played during the transformation, which made our implementation sustainable.
We left our initial conversation with Greyson James & Associates excited to begin our journey. This organization helped our executive team create a clear vision for our product teams and improve our efficiency. It was a pleasure working with your team.
Nationally and Internationally
Trusted By The Best Companies
Popeyes

Burger King

Volvo

Toyota

Sonos

Royal Caribbean Group

Norwegian Cruise Line

Janssen

Emerson

Hard Rock Cafe

Harmon

Hyatt Legal Plans

Home